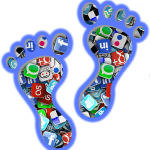 A digital footprint is developed from traces of your company across the internet. Most commonly websites and social media.
Your Company Website
Directories (yelp, local.com,citysearch,yp.com,Merchant Circle)
Facebook, Twitter, Google +, YouTube, Pintrest, LinkedIn
Blogs, Forums, various publications
Google Maps
GOOGLE, GOOGLE, GOOGLE
Building a digital footprint takes time and lots of content. The good news is that it is worth it. Social media and search engines have given many companies the ability to thrive. By typing just a few simple key words a consumer can learn everything about your company that you ever wanted them to. The question is will they like what they see when they get there?
Managing Your Digital Footprint
While developing a digital footprint is important, making sure the relevant content is in place is of equal or greater importance. When a potential customer lands on your Facebook or twitter page it is imperative that your brand essence is delivered. Consumers want to experience your brand in a variety of ways and develop their own feelings about your brand. While not having a digital footprint is a poor business decision, a vacant and disjointed digital footprint is worse. Make sure that your digital footprint does your brand justice.
Where do I get the time & the content?
Roofing Brand has a dedicated team of industry experts whom develop organic content specific to the roofing industry on a daily basis. We specialize in developing the right digital footprint for roofing contractors all over the county.